FJ/OH2AM Log Search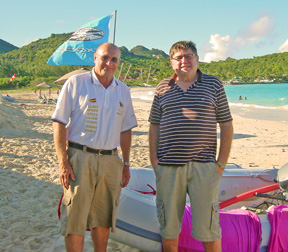 ACTIVATING ST. BARTHELEMY ISLAND
AS A NEW DXCC AWARD ENTITY
Dec.18.2007 - Dec.26.2007
Operators: Olli Rissanen, FJ/OH0XX, and Martti Laine, FJ/OH2BH
Search for your QSOs in the FJ/OH2AM log! The search may take as long as 10 seconds--or even longer during peak traffic times. Please be patient.
The FJ/OH2AM log can also be searched in two other ways:
Via E-mail: Simply send a message to fj-log@n4gn.com and include up to ten call signs to be searched for. These search calls can be put in the subject header or the first 100 characters of the message body. The results will be e-mailed back to you, typically in less than one minute.
Via N4GN.com DX Log Searches Site: Visit n4gn.com/logsearches to search the FJ/OH2AM log and more than two dozen other DXpedition logs.