H4ØAA QSL Information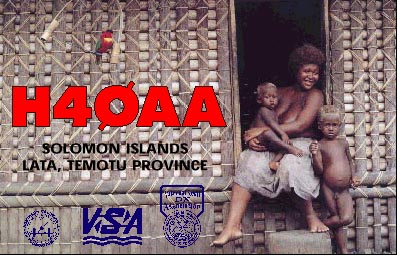 ONLY special limited edition H4ØAA QSLs will be handled via W6OSP:


Temotu Development Fund
c/o Bruce Butler, W6OSP
4220 Chardonnay Court
Napa CA 94558
U.S.A.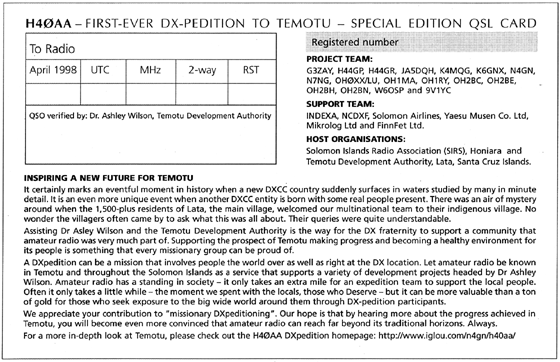 (Original PDF file available via FTP--59 kB.)
The following information applies to the special limited edition QSLs:
Each QSL will be marked with a unique serial number
All QSLs will be signed by Dr. Ashley Wilson of the Temotu Development Authority
The QSLs will be mailed directly from Lata, provincial capital of Temotu, using special commemorative stamps
Minimum donation US$25, payable to Temotu Development Fund
All funds will be used directly for development projects in Temotu
Limit one special limited edition QSL per person (confirming one QSO)
All other QSOs will be confirmed via OH2BN with the standard QSL
All requests must be received by W6OSP on or before 10 May, 1998
For more information, see H4ØAA Bulletin 08
All other H4ØAA QSLs will be handled by OH2BN:

Jarmo J. Jaakola, OH2BN
Kiilletie 5C30
Helsinki 00710
FINLAND

The Solomon Islands Radio Society (SIRS) has kindly requested that DXers not send any cards via the H4 QSL bureau. OH2BN will reply to H4ØAA requests via the OH bureau after the initial batch of direct requests are serviced.
---
H4ØAA Home
---

---
Last modified 2005-10-29 by Tim Totten, n4gn@n4gn.com.
Copyright © 2005 Tim Totten, N4GN. All rights reserved.